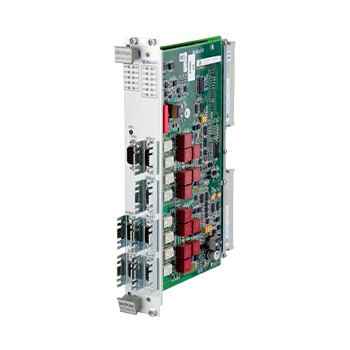 • TCN gateway for TCMS and/or OMTS » Suitable for redundant configuration » Part of TCN-GW01 standalone device » Part of VCU
• Configuration & Service Station used for the creation of configuration data
• UIC Diagnostic Station used for on-line monitoring and servicing of the nodes and TCN network
(Compliant only if properly mounted
in the corresponding rack)
• EN 50155 – Electronic equipment used on rolling stock
• EN 50121-3-2 – Electromagnetic compatibility
• EN 50124-1 – Insulation coordination
• EN 61373 – Shock and vibration tests
• EN 60529 – Degrees of protection provided by enclosures
• EN 45545-2 – Fire protection
• IEC 61375-2-1 – TCN – WTB
• IEC 61375-3-1 – TCN – MVB
• UIC556 – Information transmission in the train
The rack-mounted 6U module GW-CPU2/A is the heart of the TCN Gateway, the network device that forms the train network WTB. It ensures transfer of process data and routing of messages between the WTB and MVB vehicle bus.
At the time of coupling/decoupling a vehicle to the train, the GW-CPU2/A determines the actual train composition, with all necessary properties, by an automatic inauguration process. Dynamic coupling during operation is supported.
It offers redundant configuration if there are two GW-CPU2/A
modules mounted in one unit.
WTB and MVB, defined by international norms (IEC 61375-2-1/-3-1 and UIC556) are actually the only standards where interoperability between vehicles from different manufacturers becomes a reality. The maturity of the WTB and MVB technology has been duly proven by long-term successfu. Standardization was completed in 2005. Due to its unique features it is a constantly desired technology.
WTB-A1/WTB-A2, WTB-B1/WTB-B2, Bypass relays, Fritting option
MVB-M1/MVB-M2, EMD, Class 5 device capability, Anti-jabber technology, MVB Traffic - 1MB
Service serial line RS-232
Rozsah pracovních teplotOperating Temperature Range