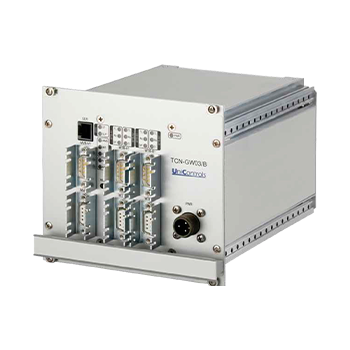 • TCN gateway for TCMS and/or OMTS
• Configuration & Service Station used for the creation of configuration data
• UIC Diagnostic Station used for on-line monitoring and servicing of the nodes and TCN network
• EN 50155 – Electronic equipment used on rolling stock
• EN 50121-3-2 – Electromagnetic compatibility
• EN 50124-1 – Insulation coordination
• EN 61373 – Shock and vibration tests
• EN 60529 – Degrees of protection provided by enclosures
• EN 45545-2 – Fire protection
• IEC 61375-2-1 – TCN – WTB
• IEC 61375-3-1 – TCN – MVB
• IEC 61375-3-3 – TCN – CANopen
• IEEE 802.3 – Ethernet-based local area networks
• UIC556 – Information transmission in the train
The TCN-GW03 forms the train network WTB. It ensures transfer of process data and routing of messages between the WTB and one of the vehicle busses (MVB or CANopen or Ethernet).
At the time of coupling/decoupling vehicle to the train, the TCN-GW03 determines the actual train composition, with all necessary properties, by an automatic inauguration process. Dynamic coupling during operation is supported.
Integrated I/Os are advantageously used in UNITRAC OMTS applications, where there are just a few hardwired signals per coach. Then no additional equipment is necessary.
It is possible to mount the TCN-GW03 to a 3U 19"rack or as a standalone device.
WTB and MVB, defined by international norms (IEC 61375-2-1/-3-1 and UIC556) are actually the only standards where interoperability between vehicles from different manufacturers becomes a reality. The maturity of the WTB and MVB technology has been duly proven by long-term successfu. Standardization was completed in 2005. Due to its unique features it is a constantly desired technology.
16.8V to 137.5V DC, Class S2
Operating Temperature Range