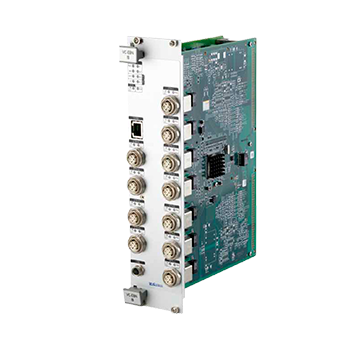 • Train switch for TCMS and/or OMTS
• Standalone device or part of VCU
• Web browser / FTP client / SSH terminal for access to built-in network servers providing configuration, FW upgrade and system diagnostics
• Wireshark complemented with plugins for TTDP and TRDP protocol serves for analysis and debugging of the entire ECN and EBN networks
(Compliant only if properly mounted
in the corresponding rack)
• EN 50155 – Electronic equipment used on rolling stock
• EN 50121-3-2 – Electromagnetic compatibility
• EN 50124-1 – Insulation coordination
• EN 61373 – Shock and vibration tests
• EN 60529 – Degrees of protection provided by enclosures
• EN 45545-2 – Fire protection
• IEC 61375-2-3 -TCN – Communication Profile
• IEC 61375-2-5 – TCN – Ethernet Train Backbone
• IEC 61375-3-4 – TCN – Ethernet Consist Network
The rack-mounted 6U module VC-EBN is the heart of the Ethernet train backbone node, a network device that forms the Ethernet train network (ETB) and routes data packets between the ETB and consist networks (ECN) in individual vehicles. The basicaly implemented communication prole is TRDP. The functionality of the VC-EBN fully complies with IEC 61375-2-5, 3-4,-2-3 international standards.
The implemented TTDP protocol automatically discovers train composition with all necessary properties at the time of coupling the vehicle to the train. The R-NAT technology moreover enables connection of identical ECNs (with identical IP addresses).
The VC-EBN can be configured to operate in redundant mode, if two VC-EBNs are placed in one ECN. A redundancy protocol ensures that the backup VC-EBN takes over all functions in the case of primary node failure.
The variant VC-EBN/B has integrated managed ECN switch with UC-Ring technology. This allows building a fault-tolerant ECN using ring topology with an unlimited number of switches while still ensuring a fast fault recovery time of less than 50ms.
100BASE-TX Ethernet ports with bypass relays, M12 D-coded
Supported Network Technologies at ETB
1 or 7 10BASE-T/100BASE-TX Ethernet ports, M12 D-coded
Supported Network Technologies at ECN
TRDP, CIP, TCN-DNS, R-NAT, FTP, HTTP, SSH, SNMP, UC-Ring
Service serial line RS-232
Operating Temperature Range