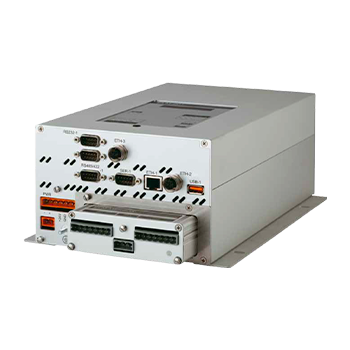 • EN 50463:2012-2 certified
• Four-quadrant energy metering
• Suitable for all AC and DC traction supply systems
• Applicable to multi-system locomotives
• Accuracy Class 0.5R (EN 50463), Class C (EN 50470)
• Recording load profiles at 1 minute intervals
• Wireless data transmission in 3G/4G, railway GSM-R and WiFi networks
• Power supply voltage 16.8V to 154V DC
• Operating temperature from -40°C to +70°C
• EN 50121-3-2 – Electromagnetic compatibility
• EN 50124-1 – Insulation coordination
• EN 50155 – Electronic equipment used on rail vehicles
• EN 61373 – Shock and vibration tests
• EN 50463:2012
• EN 50470-1
• EN 62056-21
• EN 62056-61
• IEEE 802.3 – Ethernet-based local area networks
• IEEE 802.11 – Wireless local area networks
The ELM-201 energy meter is designed especially for energy metering onboard electric traction vehicles. It can measure both the DC and AC signals of any existing traction supply system (1.5kV DC, 3kV DC, 15kV/16.7 Hz, 25kV/50Hz). Moreover, it is also suitable for multi-system locomotives using more than one electrification system.
The energy meter measures active and reactive energy both consumed and generated, active and reactive power and instantaneous values of voltages and currents. It records load profiles at 1 minute intervals, and monitors the minimums and maximums of values measured.
The energy meter can wirelessly transmit the measured data over the GSM/GSM-R/UMTS and WiFi networks. An integrated GPS receiver adds position information to the load profiles and is used for time synchronisation.
The ELM-201 is a certified energy meter in accordance with the latest EN 50463-2:2012 standard. It meets the requirements for accuracy class 0.5R. The energy meter can be supplied with a calibration certificate enabling its use for billing purposes.
MEASUREMENT AND CALCULATIONS
Accuracy Class 0.5R (EN 50463), Class C (EN 50470)
Active energy consumed and regenerated (MWh)
Active energy consumed and regenerated in DC network only (MWh)
Reactive energy consumed and regenerated both capacitive and inductive (MVArh
Active power (MW), reactive power (Mvar)
Instantaneous/eective value of voltages and currents
Operating Temperature Range
165 x 105 x 310 mm (šířka x výška x hloubka)